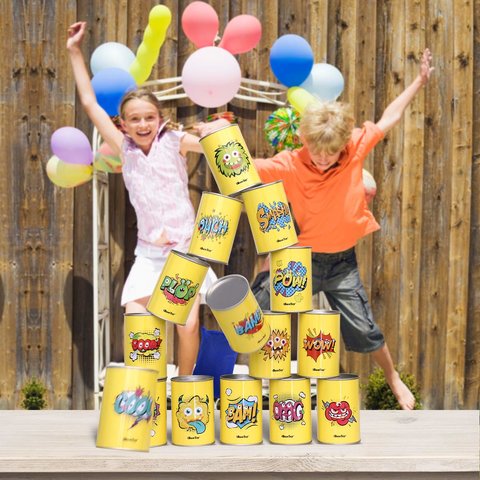 Can Smash/ Bean Bag Toss
Note: We do not provide a table for this to stand on. You may add a table to your order or provide one yourself.
.

FUN AND SIMPLE GAME Stacking cans into a pyramid, then toss the beanbag to try to knock them down. Whoever knocks down the most cans wins!

CUTE PAINTED FACES ADD TO FUN. Each one of the 15 colorful cans has a different face, and on the back there are numbers for scoring. Kids will love the silly faces on the cans.

QUALITY CANS AND BEANBAGS. The cans are made of sturdy metal, and the beanbags are filled with fabric so they aren't too heavy. The bean bag toss game can be played indoors or out.

NOISY AND HARMLESS. Youngsters always enjoy opportunities to make some noise, and these lightweight cans make a satisfying crash and clatter when they're knocked down.
Printed With Number Play
Use the numbers on the back of each can a player knocks down to total up the score in each "round" of the game. Just set up the cans so that #1 is at the top of the pyramid, then #2 and #3, and so on.