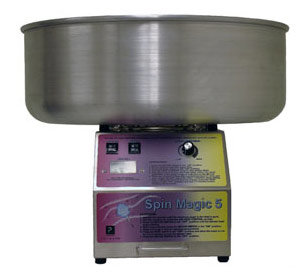 Cotton Candy Machine
Actual Size: 3x3
Setup Area: 3x3
Outlets: 1
Age Group: 18+ For Operation
Attendants: 1




Instructions for Cotton Candy Machine Operation
Setup:
Setup cotton candy machine on a secure table top. (NOT INCLUDED)
Un-tighten top 2 screws of machine (allows cotton candy head to move freely).
Put bowl on top of machine (no screws, clamps, or locks needed)
Optional: If you are using the Big Bubble covers for the bowl, then now would be the time to attach the Big Bubble cover to the bowl. This is used to protect from flying sugar particles, but it no not required.
Making Cotton Candy:
Turn both switches to the ON position (rotating switch and heating switch)
Once heating switch is turned on, coton candy sugar is heated and thrown to the sides of the bowl.
Caution: First 1-2 minutes of operation throws out hard sugar particles because the machine is not heated yet. Make sure everyone is standing about 3-4 feet back.
Take cone and rotate around bowl until cotton candy has collected.
Potential Problems:
Make sure both switches are turned on. If heating switch is not turned on, it will simply throw out hard sugar particles.
Make sure screws are tightened or else machine will not work properly.
Make sure electricity cord is plugged into the electricity outlet or machine will not operate.


INCLUDES: Machine, Sugar ( Pink, Blue or Purple) Based on availability, Sticks (50 Servings)

Spin up to 200 cones of cotton candy per hour with this Paragon 7105200 Spin Magic 5 cotton candy machine! Unlike ordinary ribbon-style heating elements, this unit's high performance head will not clog and features an all-metal design for superior durability. Its 5" all-metal spinning head lasts longer than spinning heads with plastic parts and can be easily taken apart for quick, thorough cleaning. Plus, its stainless steel cabinet and included 26" aluminum bowl add to its sturdy design.

This unit's professional control panel and voltage meter offer a variety of settings so you can maximize sugar to floss yield and create perfect cotton candy under any conditions.

The Paragon 7105200 Spin Magic 5 cotton candy machine features a 1/12 hp motor that provides 3450 RPMs of power for fast, easy cotton candy making. To extend its life and enable easy clean-up, its motor is completely protected from sugar exposure. This unit requires a 120V, 1636W electrical connection.

Overall Dimensions:
Width: 19"
Depth: 12"
Height: 21"