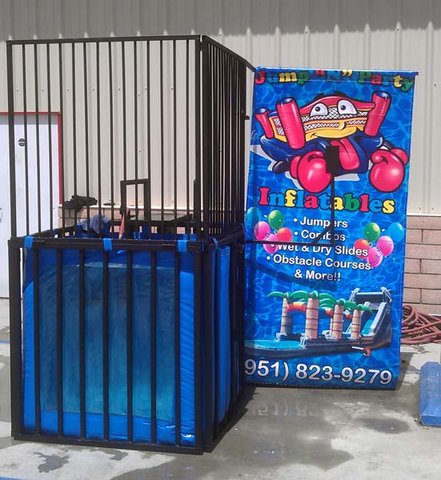 250 Gallon Dunk Tank $50 Off when added to Inflatable order.
Setup Area: 4'L x 8'W x 8'H
Age Group: 8 yrs & Up "Must be able to swim"
Attendants: 1




You saved $50.00 By adding this to your inflatable order!
This Dunk Tank is perfect for your event or Back Yard Party! Its 250 Gallons of water and tons of fun! Must be sure all participants are able to swim and you have a life gaurd on duty at all times while in use.
Space Requirements:
Required Min. CLEAR Pathway/Gate Entrance: 48 inches
Required Water Hose: Must be able to reach set up area
Required Adult Supervisors: 1 minimum
Electrical Plug-In Must Be: None
Additional Weekday Fee: $15 for Monday-Friday Rentals
Late Night Pick Up (after 6 PM): $35 Per hour up until 9 PM
Overnight (Must be in a secured location): 25% of total order will be applied
Additional Delivery Charges: May Apply

WE ARE INSURED AND PARK APPROVED!!
$20 Set Up Fee for Non-Residential Locations

Dunk Tank Safety Rules
*Please wear flip flops or water shoes when using the dunk tank.
Water level must be at least 5" from the top of the tank.

No Standing on the seat!!!

DO NOT resist when getting dunked, i.e. grabbing sides or front of tank.

One person at a time on seat.

DO NOT hit the target with hands.

DO NOT operate in lightning or a storm.

People with medical conditions, i.e. Back problems, neck problems, or pregnant woman should not sit on the seat.

Keep throwers back at least 10 feet.

Use balls provided, DO NOT use baseballs or other hard balls.

People under 5 feet and non-swimmers should stay out of the tank.

The tank should be supervised at all times by an adult who has read and understood the safety rules.

Clean up spills from areas where people are walking to prevent injury.

Tank must be drained if left unattended.

Intoxicated persons or people under the influence of drugs must not be permitted to use or be near the Dunk Tank.

Advise the Dunked person to move toward the front of the tank after being dunked so that they can avoid hitting their head on the seat.

When sitting on the seat keep hands and feet forward.

Keep tank away from electricity at all times.

Check to make sure seat latch is properly engaged before getting on seat.

Ensure safety latch is in proper position when tank is not in use.

Always enter and exit via back steps.