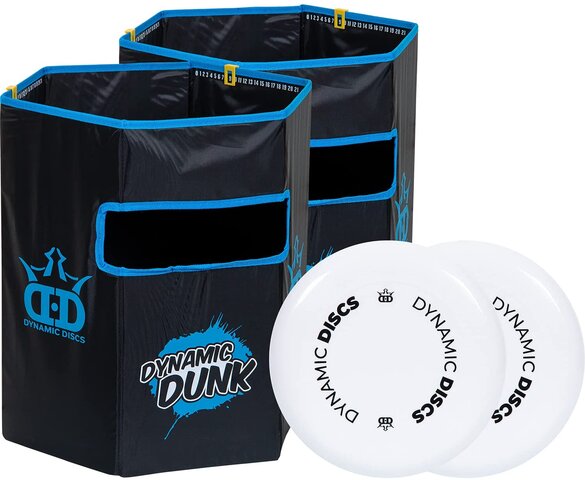 Dynamic Dunk
HOW TO PLAY:
*2 TEAMS
*TEAMS TAKE TURNS
*FIRST TO 21 OR INSTANT WIN
*DINGER (REDIRECTED HIT) 1 POINT
*DEUCE (DIRECT HIT) 2 POINTS
*BUCKET (SLAM DUNK) 3 POINTS
* INSTANT WIN (DIRECT ENTRY)
GAME RULES:
1. PLAYERS MUST REMAIN BEHIND THE GOAL WHEN THROWING.
2. NO POINTS AWARDED IF THE THROW HITS THE GROUND
3. NO POINTS IF THE DEFLECTOR DOUBLE HITS, CATCHES, DEFLECTS, CARRIES THE DISC OR USES 2 HANDS TO DEFLECT
4. 3 POINTS WILL BE AWARDED TO THROWING TEAM IF AN OPPONENT INTERFERES WITH PLAY TO DEFEND THE GOAL.IF THE SCOR IS 19 OR 20 1 OR 2 POINTS ARE AWARDED.
5. A TEAM MUST REACH AN EXACT SCORE OF 21 POINTS TO WIN. IF A GIVEN THROW RESULTS IN POINTS THAT RAISE A TEAMS TOTAL SCORE ABOVE 21, THE POINTS FROM THAT PLAY ARE DEDUCTED FROM THEIR CURRENT SCORE AND PLAY RESUMES.
6. TEAMS MUST THROW AN EQUAL NUMBER OF TURNS BEFORE THE GAME IS OVER EXCEPT WHEN AN INSTENT WIN OCCURS.
7. IN EVENT OF A TIE GAME THE WINNER IS DECIDED IN AN OVERTIME ROUND . EACH TEAM PLAYS A ROUND AND THE TEAM WITH THE MOST POINTS WINS!