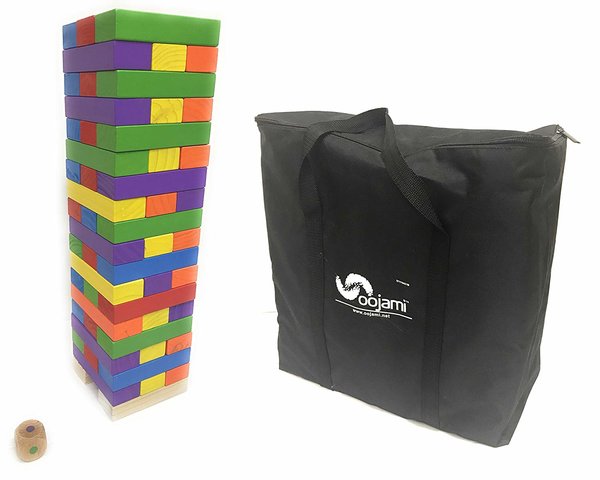 Giant Colored Jenga
Actual Size: 2.5-feet tall (can grow to over 5-feet while playing )
Age Group: 5 yrs & Up




Giant Colored Jenga!
Game includes 56 - 7.5" x 2.5" x 1.5" Timbers (The 2 extra uncolred blocks we provided are for the bottom row for added height) 1 Large Dice 1.9" x 1.9" x 1.9" with all colors

Includes 6 Bright Colors Included are Blue, Red, Yellow, Green, Purple and Orange

The Game will begin with 19 levels of timbers 2.5-feet tall (can grow to over 5-feet while playing )

The perfect game to bring to tailgates, barbeques, or any outdoor event for hours of entertainment!

Amazinig fun twist on an old classic game that includes 54 pieces of colored wood blocks with which to build a tower and then take turns playing throwing the dice that will indicate the color of the block must be removed from the tower, but be careful because if the tower falls on your turn you will lose the game. ,

Allow Jump N Party to bring added fun to your reservation from events or parties such as Church events, Bounc House rentals, Water slide rentals, School events and More!