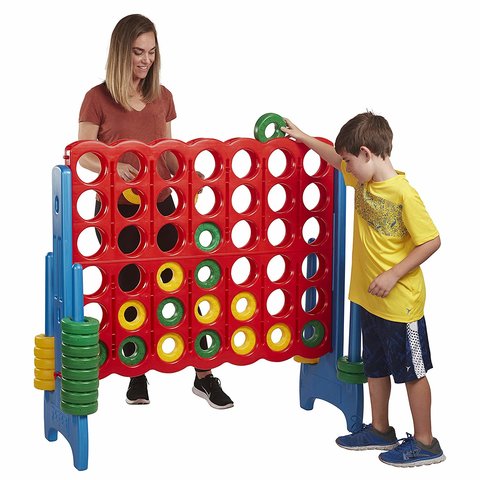 Giant Connect Four
Setup Area: 3'L x 4'W x 4'H
Age Group: 5 yrs & Up




Allow Jump N Party to bring added fun to your event or party reservation with this great game add on!


Giant connect 4 is an awesome game with hours of fun for all parties and events such as: bithday parties, school events, obstacle
rentals, watre slide rentals, church events and More! Serving areas such as Temecula ca, Murrieta, Winchester,Riverside, Lake elsinore,
Menifee, Hemet, San Jacinto, Moreno Valley, Corona, Beaumont, Banning, Redlands, Palm Springs, Banning and Many more!


Set Up:
Step One: Find a even piece of ground to assemble the board or frame. Example: a patio, an even piece of lawn or possibly inside your house if you have the room.
Step 2: You will need to get out all the colored counters and separate them into the two colours. Th
Step 3: You are now ready to play!
Note: make sure you have blocked the bottom of the frame so that the pieces do not drop out the bottom when you drop them in.
Object of the Game:
The objective of the game is to get four of your color counters in a line. This line could be either diagonal, horizontal or vertical. During the game you take it in turns to drop the counters into the frame. You must always take your turn, and cannot 'pass' or forfeit your turn.
The first person to get 4 of their color counters in a row is the winner!
Win, Lose or Draw:
It is seen as losing or forfeiting the game to your opponant if you get more than 4 in a row. This could be done if you have no choice but to drop a counter into a space which is between your own color counters making a row of 5 or more.
It is possible to draw - this happens when you fill up the board completely but noone has achieved four in a line.