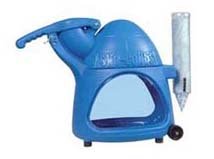 Snow Cone Machine Add On
Actual Size: 3x2
Setup Area: 3x2
Outlets: 1
Age Group: 18+ for Operation.
Attendants: 1




THIS ITEM IS PRICED TO BE ADDED TO AN INFLATABLE RESERVATION ONLY.
****ICE IS NOT PROVIDED****
IT IS THE CUSTOMERS RESPONSIBILITY TO PROVIDE THE ICE. No block ice, Just regular bags of ice.
Setup:
Setup snow cone machine on a secure table top. ( NOT INCLUDED )
Plug in power cord into electricity outlet.
Making Snow Cones:
Fill the hopper to within an inch of the top with ice cubes.
Switch the motor on. Wait for the motor to come to full speed (a minute or so).
Puch the pusher handle down against the ice in the hopper. Apply firm and even pressure to make the best snow. This allows the ice to resettle against the shaver head.
Once ice has been shaved and has collected in the bottom compartment, use scoop to fill cone(s) with the shaved ice. Apply any flavored syrups as desired
Caution: Never put any object into the snow cone machine body while the motor is running. Serious damage can occur to any body parts or objects that are placed inside the snow cone machine hopper.
Potential Problems:
Too much pressure will result in snow that is coarse; too little pressure will make the snow mushy.
Make sure electricity cord is plugged into the electricity outlet or machine will not operate.
INCLUDES: Machine, Cones, 2 Syrup flavors (50 Servings)