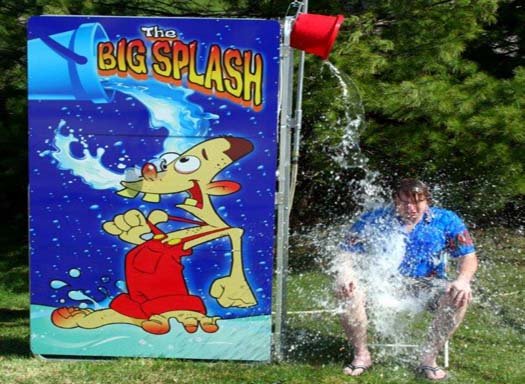 The Big Splash
Setup Area: 8'L x 8'W x 8'H
Outlets: 0
Age Group: 5 yrs & Up
Attendants: 1




If you are looking for a Dunk Tank alternitive this is your item! The bucket will fill by a switch of the hand and a chair is placed under the bucket. Someone sits in the chair and awaits the bucket of water to dump over them!
There is a target that needs to be hit with a sponge waterball for the trigger to relese the water bucket.
Includes:
(1) Chair
(1) Water Bucket
(4) Sponge Balls
(1) Backdrop With Target
Space Requirements:
8'L x 8'W x 8'H
Required Min. CLEAR Pathway/Gate Entrance: 40 inches
Required Water Hose: Must be able to reach set up area
Required Adult Supervisors: 1 minimum
Electrical Plug-In Must Be: None
Additional Weekday Fee: $15 for Monday-Friday Rentals
Late Night Pick Up (after 6 PM): $35 Per hour up until 9 PM
Overnight (Must be in a secured location): 25% of total order will be applied
Additional Delivery Charges: May Apply
WE ARE INSURED AND PARK APPROVED!!
$30 Set Up Fee for Non-Residential Locations
The Big Splash is a interactive water activity that is very similar to a dunk tank. Participants attempt to throw a ball at the target, a red nose on a cartoon character. If they are able to hit the target, a bucket full of water is released onto the head of a willing (or unwilling) participant. The bucket automatically fills back up after dumping, making reset for the next pitcher easier than ever.
This water game is a great alternative to dunk tanks because there is no submersion of the victim. Many schools and insurance companies have limitations preventing the groups from renting a dunk tank due to the depth of the pool. With the big splash, you get all of the dunk tank fun with none of the insurance liability!
Many event groups use the big splash in the same ways as a dunk tank. In corporate settings, the water activity can be used as a morale booster, as you dunk your CEO or immediate manager. It can be a fun, safe way to let off some steam without getting fired. For schools and churches, the Big Splash can be used a fundraising activity, charging participants a few dollars for a ball, or 3 balls for 5 dollars. Choice of the water target is equally important in fund raising situations. Pick a popular teacher, the principal, or the pastor to raise the most possible money for your cause.
The big splash does require constant access to a hose and water spigot, so make sure you choose a location within range.